Summer holiday in the Dolomites:
Hiking paradise of the Luson Alp
The South Tyrolean holiday resort lays in a romantic, natural lateral valley of the Isarco Valley. With an altitude of 2.875 metres the massive peak of Sass de Putia rises above the valley. The scenic natural landscape is the Mecca for hikers and nature lovers. In Luson relaxing days, surrounded by a natural environment, are ensured. The Luson Alp lays above the municipal territory of the same name and  becomes a wonderful hiking area in summer. Along the so called Dolomites route the breathtaking beauty of the steep alpine world is revealed to visitors. The Sieberlechnerhof farm is an excellent starting point for walking. Directly behind the farm a fabulous landscape extends with deep woods and green alp meadows.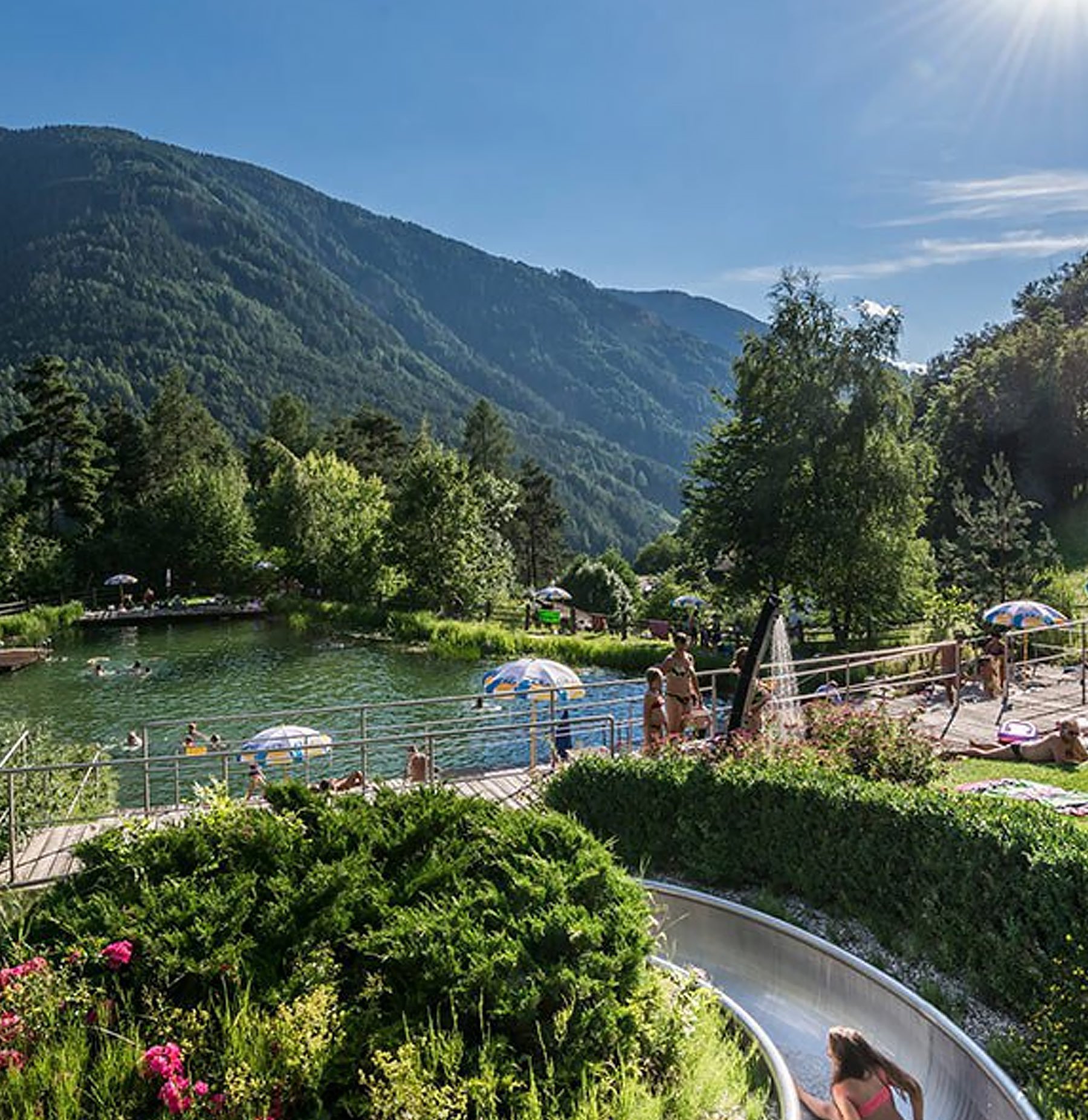 The natural lake of Luson:
Refreshment on hot summer days
On hot summer days the natural lake of Luson attracts with its refrigeration. During the warm season the lake is open till 8 pm and reaches temperatures over 20 degrees. Directly near the natural lake of Luson there is a tennis facility which invites you to play a funny match in front of a fascinating mountain landscape. Furthermore in Luson there is also a paraglider school, which offers paragliding courses. After a successful instruction  you can enjoy a tandem flight on the mountains with the paraglider and a professional teacher.
Interesting excursion destinations
in Luson and surroundings
Near the hiking paradise of the Luson Alp your holiday resort in South Tyrol can offer you a great variety of attractive excursion destinations. A visit to Rodengo Castle will take you back in the ancient medieval age. This massive structure rises above the "Gola di Rienza", on a promontory. From the Sieberlechnerhof farm you can comfortably reach the castle walking. The foundation wall of the building dates back to the 12th century. Mountain bike tours lead you in the alpine mountain region or along the Isarco river in the valley bottom. In the district of Petschied the little parish church is a visit worth and probably built on a pagan spring sanctuary. The Strickermühle is an ancient mill, whose inner rooms can be visited nowadays. So at the beginning of Luson town, together with the Mairhof farm, there is a further historical building.