Farm holiday in Luson
surrounded by an untouched natural environment
The Sieberlechnerhof is a typical South Tyrolean farm in the Dolomites. Our farm lays in a wonderful district in the municipal territory of Luson, nestled in an idyllic lateral valley of Isarco Valley. You will spend your farm holiday in Luson far away from the daily stress and rush, at an altitude of 850 metres a.s.l. Green meadows and woods extend behind the farm along the mountain slopes and at nightfall wild animals dare to come down to the green fields, very close to the farm.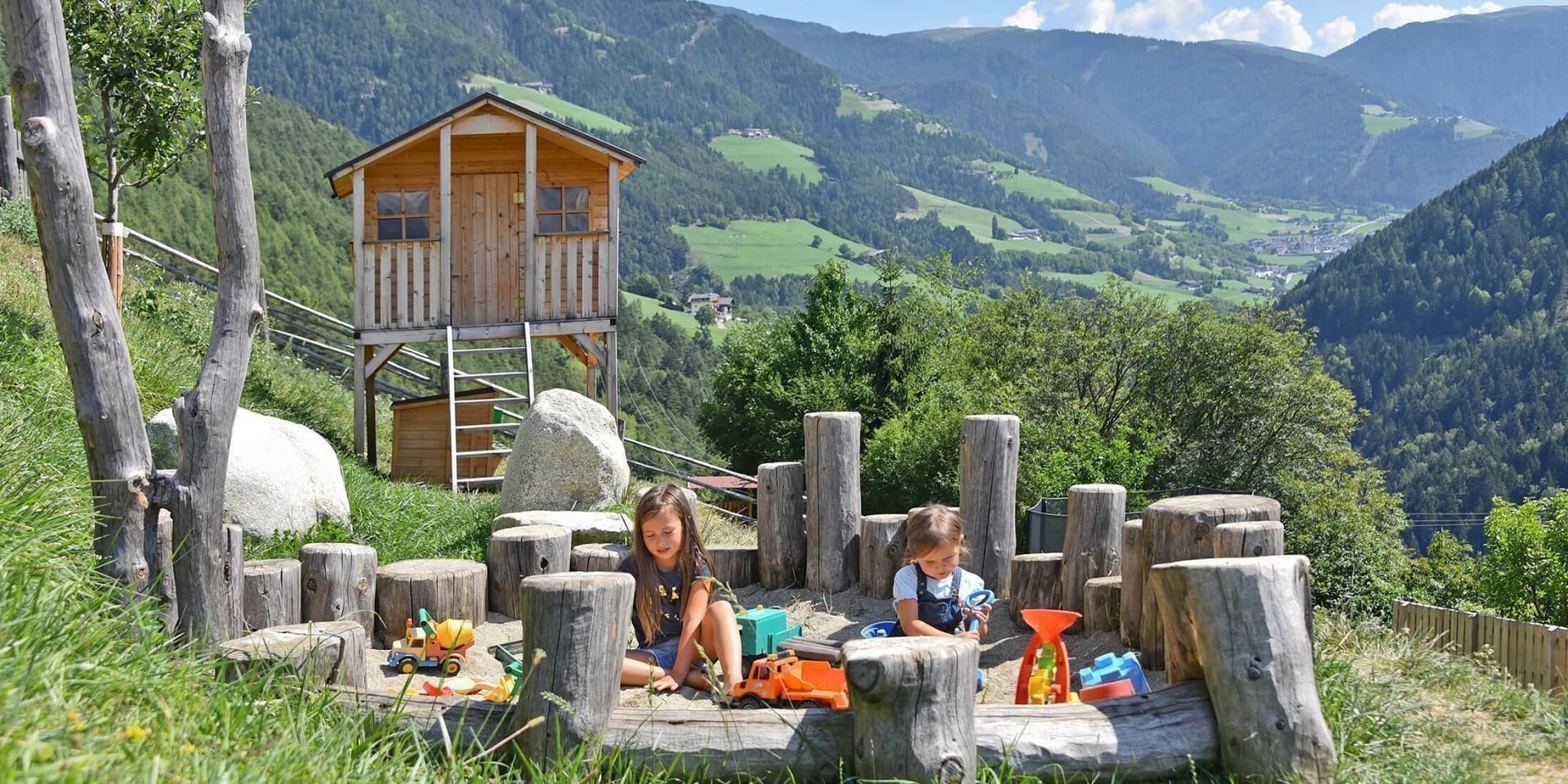 Rural idyll
at Sieberlechnerhof farm in Luson
The Sieberlechnerhof farm hosts a lot of animals, beside cows also rabbits and a cat family live at the farm. During your farm holiday in Luson you will have the chance to fully enjoy the rural life. You can freely choose, if you want to take an active part in the everyday farm life, or if you prefer to lay in the sun on the meadow or on the balcony of your apartment. We would be pleased to organize a trip for you and your children in the near woods, showing you the best belvedere points and the most idyllic picnic locations. Near our farm you will find a traditional wine restaurant, where you can have good dinner in a funny atmosphere. It's just a few minutes' walk away.
A variety of free time activities
at Sieberlechnerhof farm in Luson
Wonderful hiking routes start close to our farm. The medieval Rodengo Castle can be comfortably reach with a few minutes' walk and in the wood there is a small, romantic chapel with a long, interesting story. For our little guests we have a fully equipped playground with slide, trampoline and swing. From September 2013 you can also relax in our hay bath and biosauna, while we take care of your children. At the farm you can also grill.On request, we are happy to organise a Tyrolean evening with music every week. You will be served typical dishes such as dumplings and apple strudel. . During your farm holiday in Luson we can put at your disposal a breakfast basket with fresh bread, butter, jam, honey and chocolate.
Your children we will take care of weekly during your wellness hours for two, we will go to the forest, visit our animals, make a "goat marathon" , do handicrafts and painting together, romp on the playground.
We accompany you and your children to our animals, inform you about their peculiarities. They can help us feeding the animals, cleaning the stable or taking other works in our agriculture.
We will inform you about the work at the farm during the annual circle. From our house garden you get fragrant herbs, salads, tomatoes, and other vegetables, strawberries and raspberries.